Readers are assessed in approximately 30 minutes with an engaging computer-adaptive assessment. Based on their results, learners are seamlessly placed in interactive online instruction. Struggling students are routed through reteach lessons, and teachers are given instant reports to monitor student progress. Each Priority Report directs teachers to specific skills-based, small-group lessons for targeted reading intervention.
Teachers use assessment data as one of the most powerful tools in their classrooms. An important piece of teacher instruction comes from how they utilize this data. Data needs to be collected, evaluated, and then put to use through instruction and student interventions. Learning how to effectively use assessment data will impact student learning in the best way possible.
Universal Screener and Monthly Progress Monitor with On-Demand Assessments
Progress monitoring assessments are increasingly important to district administrators, teachers, and students' families. They allow a more frequent look at what's happening with students' learning.
With fast, reliable results, digital progress monitoring tools provide assessment data that can be used in a number of ways:
help districts make important decisions that will meet the needs of their learners;
help determine a student's education plan at the school level; and
direct teachers where to focus their classroom instructional interventions.
Quickly Identify Students at Risk of Reading Difficulties
Screening for the risk of reading difficulties is a top priority for parents and educators. Istation's products have been instrumental in helping identify students at risk of learning disabilities such as dyslexia, dysgraphia, disorders in reading comprehension, and other reading difficulties.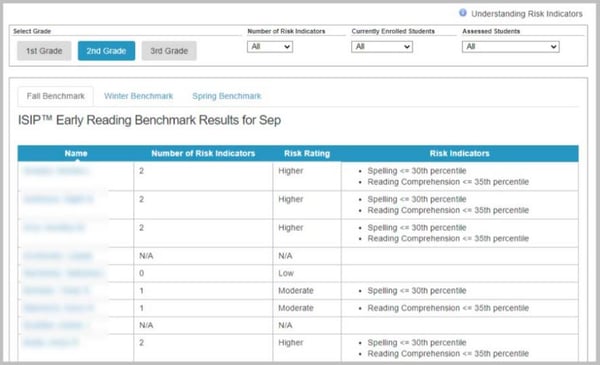 (Example of Istation's At Risk Report)