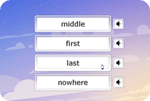 The Colorado Department of Education tackles learning difficulties with Istation
DALLAS — Istation, a leader in educational technology, gained approval from the Colorado Department of Education for the 2022-2023 Early Literacy Assessment Tool (ELAT) project . The ELAT project is designed to assist teachers in meeting the READ Act assessment requirements. The deadline to apply for an assessment tool under the ELAT project is January 31, 2022.
The Colorado Department of Education approved multiple Istation assessment programs: Istation's Indicators of Progress (ISIP™) Reading, ISIP Español, ISIP Oral Reading Fluency and ISIP Rapid Automatized Naming, which are available for districts if requested through a vendor application form. The highly personalized and computer-adaptive assessment programs provided by Istation empower teachers with valuable intervention data for classrooms.
Powered by the science of reading, Istation's reading assessments and instructional resources for pre-K through 8th grade cover the National Reading Panel's "Big Five" foundational essentials: phonemic awareness, phonics, fluency, comprehension and vocabulary. Schools get the support they need to improve foundational reading and bolster growth with assessments that measure these foundational skills and many others, providing educators with actionable and insightful data .
"As students return to the classroom, educators must be equipped with the proper tools to track progress and develop growth," said Istation President and Chief Operating Officer Ossa Fisher. "We are excited to be approved by the Colorado Department of Education as a valuable digital learning resource to empower educators!"
About Istation
Founded in 1998 and based in Dallas, Texas, Istation (Imagination Station) has become one of the nation's leading providers of richly animated, game-like educational technology. Winner of several national educational technology awards, the Istation program puts more instructional time in the classroom through small-group and collaborative instruction. Istation's innovative reading, math and Spanish programs immerse students in an engaging and interactive environment and inspire them to learn. Additionally, administrators and educators can use Istation to easily track the progress of their students, schools and classrooms. Istation now serves over 4 million students throughout the United States and in several other countries.
---