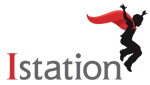 Istation Reading and Lectura as Supplemental Instructional Material for Structured Literacy
DALLAS – April 1st, 2021 – Istation, a leader in educational technology, has been vetted and selected by the New Mexico Public Education Department (NMPED) to be added to the state's High Quality Instructional Materials (HQIM) Marketplace List for K-2 Structured Literacy and as a High-Quality Professional Learning Provider. This list "provides guidance to the districts and charter schools across New Mexico to support their purchases of high quality materials." Istation Reading and Istation Lectura have been approved for this list.

Istation's instructional materials include digital lessons and face-to-face instructional strategies for reading and Spanish literacy. Plus, students can conveniently access lessons online outside the classroom, helping strengthen the school-to-home connection.
Powered by the science of reading, Istation's reading and Spanish assessments and instructional resources cover the National Reading Panel's "Big Five" foundational essentials: phonemic awareness, phonics, fluency, comprehension and vocabulary. Schools get the support they need to improve foundational reading and growth with assessments that provide actionable and insightful data that measure these skills and many others.
Designed by Spanish-language instructors, Istation's Lectura is noteworthy for teaching skills that are predictive of success for bilingual implementation, including within dual-language models. Its instructional approach includes cultural elements and diverse classroom strategies for novice and veteran educators.
"Istation's instructional educational materials are driven by research-based science and innovation," said Istation President and COO Ossa Fisher. "We are honored to be recognized as a leading provider of high-quality structured literacy instruction by NMPED. We look forward to continuing our many years of service and expanding our collective impact across the state."
Students take a computer-adaptive assessment, known as Istation's Indicators of Progress (ISIP™), which measures overall proficiency and abilities. Istation uses student progress and assessment data to create personalized data profiles with relevant information on students' progress. These instantaneous and customizable reports include both graphic and contextual analyses for each student. Teachers can use this data to plan and differentiate instruction, provide necessary interventions and discover students who may be at risk for learning disabilities.
---