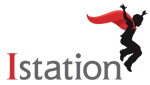 Prestigious awards program recognizes outstanding educational technology products and companies
LOS ANGELES, June 9, 2021 — EdTech Breakthrough announced educational technology leader Istation as the winner of its "Student Engagement Solution of the Year" award, recognizing the new Istation Power Path pre-K – 8 educational technology solution in the third annual EdTech Breakthrough Awards program. EdTech Breakthrough is a leading market intelligence organization that recognizes the top companies and solutions in the global educational technology market.
Istation's Power Path is comprised of a series of content releases designed to simplify, streamline and prioritize content for pre-K – 8 students. The Power Path features and options minimize distractions, offer more intuitive dashboards and promote student agency. The releases are designed to empower students to be self-starters and partners in their own learning process.
Istation's Power Path includes a fresh look and expanded instructional activities for reading, math and Spanish literacy. Delivering more choices and personalization, this new experience further motivates and engages students.
"Istation's computer-adaptive blended learning empowers students to take an active role in their learning with more student choice and fun activities for school and home," said Ossa Fisher, President and chief operating officer of Istation. "Each new power-up release includes a number of updates to provide students with more agency and choice. The Power Path is built on the principle of managed choice. We want to give students a 'right for me' learning experience designed for each unique user. We cannot thank EdTech Breakthrough enough for recognizing the importance of the Power Path, and we look forward to continued success and momentum in improving student engagement."
The mission of the EdTech Breakthrough Awards is to honor excellence and recognize innovation, hard work and success in a range of educational technology categories, including Student Engagement, School Administration, Adaptive Learning, STEM Education, e-Learning, Career Preparation and many more. This year's program attracted more than 2,000 nominations from over 17 different countries throughout the world.
"Whether learning in-person, remotely or a hybrid of both, the reality is that school is not the same as it was a year ago and unfortunately, student engagement has significantly dropped," said James Johnson, managing director, EdTech Breakthrough. "In a recent survey of K-12 educators, 92% of schools reported an increase in student disengagement. Istation is delivering a 'breakthrough' solution to address this issue head-on, providing a creative and empowering way to lift student motivation to drive greater engagement and ultimately – greater academic success. This made them an easy choice for the 'Student Engagement Solution of the Year' award. Congratulations to everyone at Istation for this well-deserved 2021 EdTech Breakthrough Award."
With Power Path, students have access to the content that's most important to them first, while having opportunities to explore additional Power Path features when appropriate. Future power-up releases will provide more opportunities for customization, including new character elements and theme options. Istation's Indicators of Progress (ISIP™) is also integrated within Power Path, allowing educators to measure student growth with engaging, computer-adaptive diagnostic and screening programs for pre-K – 8
Additionally, the Power Path ISIP Data Dashboard provides students with critical insights into their own performance, trends and challenges. Students can use this data to set goals, track growth, and identify learning deficiencies and opportunities. The ISIP Data Dashboard provides students with recent results, assessment history, goals, subtest scores and more.
---