Preparing for Back-To-School
Educational leaders crafting back-to-school plans during COVID-19 face murky waters ahead. While there's never a one-size-fits-all approach due to the diverse needs of any school or district, challenges created by the novel coronavirus require leaders to stay extra flexible this year. Listen to this insightful podcast to hear educational leaders discuss the essentials of any re-entry plan.
Blended Learning
Now that educational technology is a necessity, blended learning is a key component of any school or home learning plan, which we discuss in the e-book Making the Switch to Digital. Instruction delivered through technology can be much more personalized and motivates students to set and reach goals. Learn how in the blog post "4 Strategies for Blended Learning." Listen to this podcast, "How Blended Learning Prepares Students for Success," to discover a blended learning strategy that will work best for your school's culture. And to learn how to effectively implement edtech, check out one school's story for inspiration in the blog post "A Station Rotation Model for Early Learners."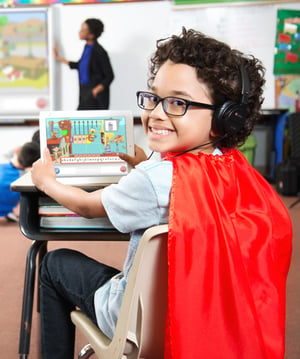 Professional Development
Professional development will likely hinge on customization ("Why we need a better approach to PD" white paper) and virtual coaches (How Virtual Learning Coaches Support Powerful School Growth) as social distancing continues. High-quality coaching for teachers that covers how to make sense of student data, understanding the broader goals of the school and district, and mastery of new technology will be key to bringing confidence into the classroom. To see what educators had to say about the quality and effectiveness of the professional development in their districts, get the survey results here.
Social-Emotional Learning
Educational leaders must find new ways to support teachers and parents to keep building SEL skills whether learning takes place at home or school. School will not look the same upon re-entry, and SEL is emerging as a priority to help ease anxiety during the transition. Listen to this podcast, "Helping Teachers Lead Through Crisis: Remote Success with Social Emotional Learning," to hear educators share valuable insights on boosting teachers' SEL competencies, and read the white paper "Supporting SEL Through Tech" for tips on embedding SEL in virtual interactions with students. Plus, check out this webinar, "How Blended Learning Can Foster Social-Emotional Learning," to learn how to use technology to bolster SEL skills such as goal setting, collaborating with others, and more.